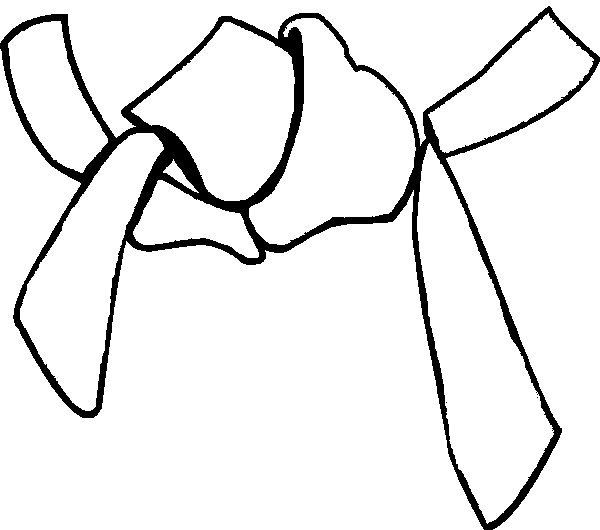 It is Mr. Donadio's belief that all students have the potential to reach the Black Belt level. To accomplish this, students will need to apply themselves to diligent training and regular class attendance, as well as develop the proper attitude (a willingness to learn and do their best). Helping the students to reach their potential and achieve "Black Belt Excellence" is the true goal of Mr. Donadio and Aurora Martial Arts!
Beginning Belt Ranks
White, Yellow and Orange Belts are considered beginning level belts. Students are introduced to the fundamentals; training will help to achieve better physical conditioning and focus. Students will also begin to create and develop speed and power in their kicks and punches and will learn to block and counter-punch with effectiveness. Self Defense skills are introduced and developed.
Intermediate Ranks
Purple, Blue and Green Belts are considered intermediate Martial Artists. Students will notice that their confidence has increased by this time. Students will have increased the effectiveness of their free-style sparring, self defense skills will be sharpened and movements have become more powerful. Students are now well on the way to the Black Belt rank.
Advanced Ranks
There are three Brown Belt Ranks. During advanced training mental and emotional outlook is deepened, posture and body stance will express your a new found confidence. The physical aspects of the Martial Arts have been highly developed as well as a strong positive attitude. In fact, the students hands and feet have become effective weapons of self defense.
Black Belt - Expert Rank
Finally, the Black Belt is the ultimate achievement in rank. Upon reaching this standard, you will have earned lifelong benefits, with quick reflexes, superb instincts, amazing speed and devastating power. It takes the average person between 4 to 6 years to earn a Black Belt. (Note: School-aged children must have a "B" average prior to earning a Black Belt.)
Areas of Testing
Knowledge: Students must know the entire curriculum necessary to progress to the next level. Each student should have Curriculum Requirement Sheets as part of their notebook. Although effort is rewarded, more so at the beginning levels, students must be able to perform all movements in their belt's curriculum at an acceptable level of skill.
Basics and Application: Good basics are the foundation of a good Martial Artist. Therefore we expect students to perform basics competently at all belt levels. Students should also be able to demonstrate an understanding of the application of the movements they are learning.
Spirit and Energy: Students are expected to perform their moves with high energy! "Kiai's" and intensity of movement can demonstrate this.
Fitness: Students are expected to improve their fitness as they progress. This is demonstrated by doing good push-ups and other calisthenics, as well as by performing the movements and forms with good endurance.
Attitude and Protocol: Students should demonstrate a positive and respectful attitude in and out of the Karate Class. Respect is to be shown at all times to Parents, Teachers, Friends and Instructors. Students should also follow the protocols of the school, such as remembering their Sir's and Ma'ams, keeping belongings in the proper place (shoes in the shoe bins, clothing and gear in a gear bag) and saluting as they enter and leave the school.
By training at Aurora Martial Arts, you will associate with some of the best people in Corvallis, people who take time to improve their mental and physical abilities. Give yourself or your child every opportunity to gain the winner's outlook through the development of new skills, with a strong sense of self-confidence, discipline, and respect.